Phoenix client
This is a project to develop a viable clone of AIM 5.x for use with newer
versions of windows, this is only a pre-release for testing purposes.
It is only currently capable of sending and receiving messages,
chat, and buddy list management.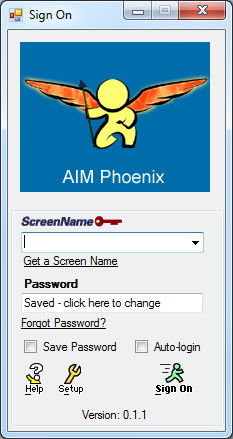 Version 0.5.8 - Release: 8/19/2018
Phoenix Desktop 1.0 (Alpha)
A re-implementation of AOL Desktop with a new elegant protocol and support for modern web conventions.
[Pending release]


Phoenix Go
An new mobile client, still very very early stage. compatible with Android 4.4+
iOS version? uhh let's see how much of a nightmare it is to develop for iOS....





Version 0.1.2 - Release: 3/31/2019